Join us for this two-day conference which convenes the leading international experts in steel and timber design and construction, to explore how the benefits of each can be utilized to advance tall steel-timber hybrid buildings.
Monday, 23 May
---
| | |
| --- | --- |
| 7:15 am | Arrival and Breakfast, kindly sponsored by DIALOG |
| 8:00 am | Opening Welcome Remarks |
| 8:15 am | Session 1: Steel-Timber Hybrids: Setting the Scene |
| 10:05 am | Coffee Break, kindly sponsored by LeMessurier |
| 10:35 am | Session 2: Case Studies: Americas I |
| 12:25 pm | Lunch, kindly sponsored by DCI Engineers |
| 1:15 pm | Session 3: Case Studies: Europe I |
| 3:05 pm | Coffee Break, kindly sponsored by Timberlab, Inc |
| 3:35 pm | Session 4: Academic-Research Advances |
| 5:25 pm | Day 1 Summarizing Comments |
| 6:00 pm | Networking Reception at Chicago Architecture Center, kindly sponsored by constructsteel and Softwood Lumber Board |
Tuesday, 24 May
---
| | |
| --- | --- |
| 7:30 am | Arrival and Breakfast, kindly sponsored by Glotman Simpson Consulting Engineers |
| 8:15 am | Opening Remarks |
| 8:20 am | Session 5: Case Studies: Americas II |
| 10:10 am | Coffee Break, kindly sponsored by Rothoblaas s.r.l. |
| 10:40 am | Session 6: Case Studies: Europe II |
| 12:30 pm | Lunch, kindly sponsored by Foster + Partners and Thornton Tomasetti, Inc. |
| 1:20 pm | Research Project Steering Committee: Combined Meeting |
| 2:00 pm | Research Project Steering Committee Break-out Meetings |
| 3:15 pm | Coffee Break |
| 3:45 pm | Research Project Steering Committee Summary Meeting |
| 5:00 pm | Conference Close |
---
CTBUH is a registered American Institute of Architects (AIA) Continuing Education Credits (CES) provider. Registered professionals can expect to accumulate up to 9 hours of CES credits during the program (including AIA Health and Safety & Welfare credits). A Certificate of Completion will be provided to registrants upon request.
---
Monday, 23 May
<!––---------–------------–------------------WELCOME----------–------------–-------------------->

<!––------------–------------–---------------SESSION 1------–------------–------------------------>

<!––------------–------------–---------------SESSION 2------–------------–------------------------>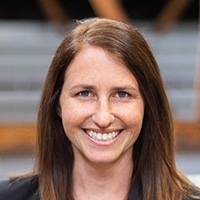 Session Chair
Megan Zack, Associate Partner and Director of Sustainability, Hartshorne Plunkard Architecture, Chicago, United States
---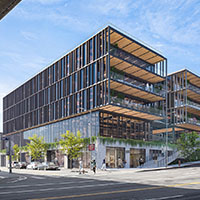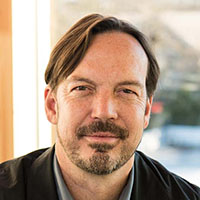 Thomas Robinson, Founding Principal, LEVER Architecture, Portland, OR, USA
"843 North Spring Street, Los Angeles: CLT, Wide-Flange Steel, and Special Concentric Braced Frames"
This five-story, 11,334 square-meter office and retail project employs a robust hybrid steel and timber structural system that combines 9.1-by-3-meter, five-ply CLT floor panels with innovative wide-flange and CLT cantilevered balconies. Its exposed special concentric braced frame (SCBF), using high-strength connectors, is ideal for taller timber structures.
---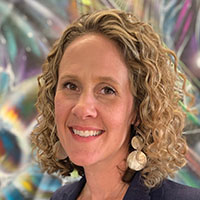 Lisa Podesto, Senior Business Development Manager, Design-Build Americas, Lendlease, San Francisco, USA
"McEvoy & Dupont Apartments, San Jose, CA: Steel BRB Lateral System"
This presentation introduces the constructability benefits and challenges of steel BRB lateral systems (distributed/exterior/core) for use in mass timber buildings. It reviews the design, procurement, constructability, and scheduling issues around using a steel BRB core as the lateral force-resisting structure, on a 13-story affordable housing project as an example.
---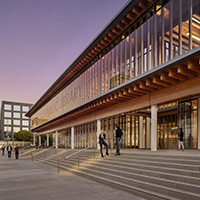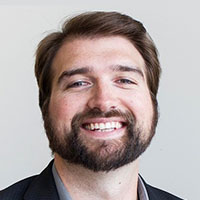 Benton Johnson, Principal, Skidmore, Owings & Merrill, Chicago, USA
"Two Public Buildings, California: Using Steel and Timber to Achieve Weight Savings"
The lightweight benefits of steel timber-hybrids are explored in this presentation through two projects; Billie Jean King Library, Long Beach, reuses existing foundations on-site to support a new library; COB 3, San Mateo, uses a steel BRB core with timber framing to minimize seismic loads.
---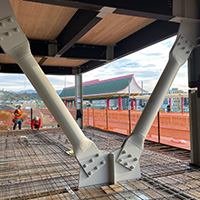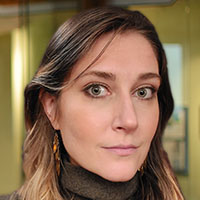 Jennifer Pazdon, Vice President, Cast Connex, New York City, USA
"Cast Steel Connections in Steel-Timber Hybrid Construction"
Case studies: Vancouver International Airport: custom and standardized cast connectors for timber columns; University of Victoria: custom castings mate timber columns with steel cantilevered beams supporting a CLT roof; John W. Olver Building, UMASS Amherst, MA: cast steel connectors in a long-span wood truss; 843 N. Spring St., Los Angeles: cast-steel connectors in SCBF frames.
---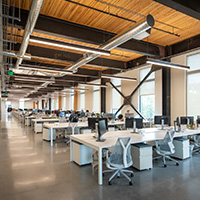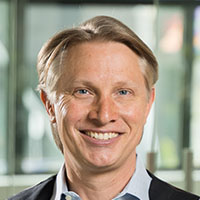 Ethan Martin, Director of Sustainability and Mass Timber, DCI Engineers, Seattle, USA
"Three Projects, Three Levels of Steel-Timber Hybrid Complexity"
Case studies include Bullitt Center, Seattle, using steel BRB diagonal frames; Skylight, Portland, using GLT post-and-beam construction with steel tensioners and secondary frame; and 1 De Haro, San Francisco, with steel BRB frames for lateral support of the glulam beam and column gravity system.
---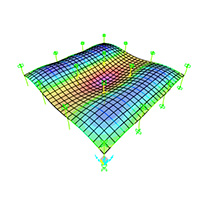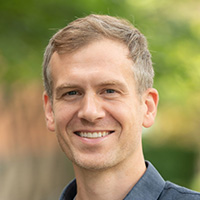 Ian Neill, Associate, LeMessurier, Boston, USA
"Steel-Timber Hybrid Floor Vibrations in Life Science Laboratory Buildings"
Floor vibration performance of steel-timber hybrid floors is examined with particular focus on the requirements for laboratory equipment and other sensitive lab/office environments. The embodied carbon performance of hybrid floor systems is also evaluated for comparison to traditional construction types.
<!––---------–------------–------------------SESSION 3----------–------------–-------------------->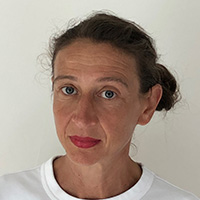 ---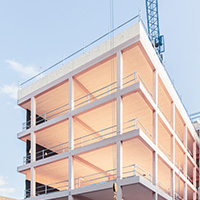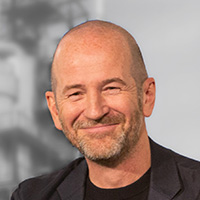 Andrew Waugh, Director, Waugh Thistleton Architects, London, UK
"6 Orsman Road, London: Zero-Waste, Demountable Construction"
Zero-waste construction is achieved on this six-story project through prefabrication of a steel post-and-beam system, with CLT floors and partitions, creating a building that can ultimately be demounted. Every element can be reused or recycled once the building reaches the end of its useful life.
---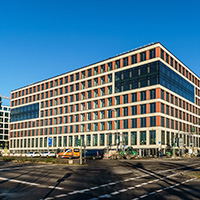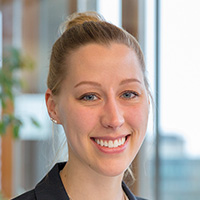 Julia Koehler, Senior Structural Consultant, CREE GmbH, Dornbirn, Austria
"EDGE Suedkruez, Berlin: Steel Vierendeel Truss Supports Concrete-Timber Construction"
In order to realize a cantilevered structure from the second story upwards, a steel Vierendeel truss was incorporated alongside other steel-timber elements to ensure against progressive collapse conditions, in a building that is otherwise made of prefabricated concrete-timber modules.
---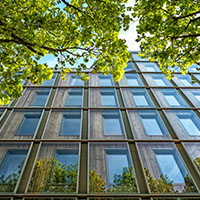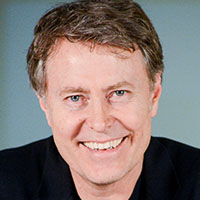 Steven Ware, Partner, Architect, ArtBuild, Paris, France
"Opalia, Paris: Using Steel to Rigidify the Façade and Optimize HVAC Penetrations"
This eight-story office building uses steel, alongside timber, to optimize façade rigidity and help resolve HVAC/structure collisions, as well as provide a platform for integrated green roofs and terraces. Many of the timber and steel building components were designed for disassembly and recycling.
---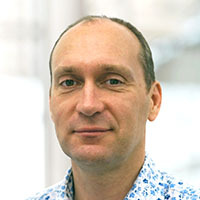 Eddie Jump, Director, Thornton Tomasetti, London, UK
"Santander Bank, London: Raising Head Heights, Lowering Embodied Carbon"
A system of steel columns and beams with shear studs, overlaid with CLT routed with grooves for composite action and a concrete topping slab cast into the CLT, comprises a 15-by-9-meter grid with a 300-millimeter-thick slab.
---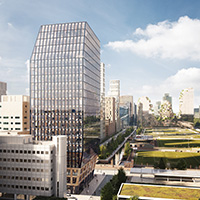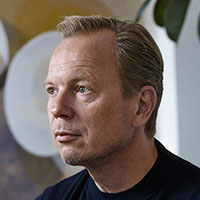 Diederik Dam, Principal Architect, Dam & Partners Architecten, Amsterdam, Netherlands
"Well House, Amsterdam: Steel Beams and CLT Floors"
To maintain to a floor-to-ceiling height of 2.9 meters that was adaptable to future demands for heating/cooling or smart grids, steel beams and CLT floors are both placed continuously, achieving slim structural dimensions while keeping the load-bearing and acoustic requirements.
---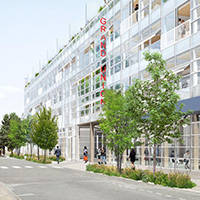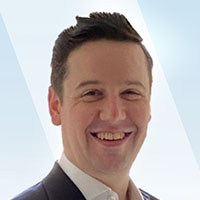 Dan Hagan, Director, WSP, London, UK
"Three London Projects: Reducing Carbon Footprint via Smaller, Lighter Structural Grids"
Retrofit/Refurbishment – Grand Union House: a three-story steel-timber hybrid framed extension on top of a traditional concrete structure; Riverside New Build: a 12-story steel-timber framing proposal that reduced both emobodied carbon and reduced the substructure works; Major Project: overbuild of an office and 5-star hotel utilising the main principles of steel-timber hybrid construction.
<!––---------–------------–------------------SESSION 4----------–------------–-------------------->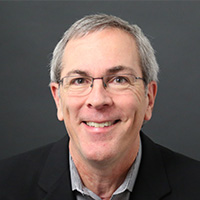 Session Chair
Michael Palmer, Managing Principal, Perkins & Will, Chicago, United States
---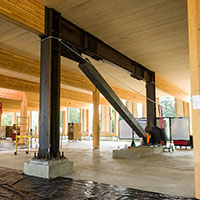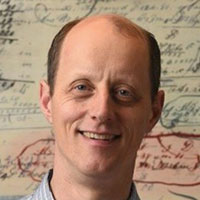 Hans-Erik Blomgren, Senior Engineering Manager, Timberlab, Portland, OR, USA

"Design Considerations: Beam-Column Connections and Steel Buckling-Restrained Braced Frames"
A mass timber-hybrid seismic braced frame system is being developed, using a diagonal steel buckling-restrained brace (BRB) with timber beams and column frame members. Six timber beam-column connections were tested, to gauge the response of mass timber joints connected with steel knife plates and mild steel dowels.
---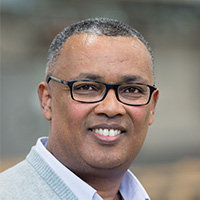 Solomon Tesfamariam, Professor, University of British Columbia, Kelowna, Canada
"Optimizing Steel and CLT for Seismic Performance"
This is a state-of-the-art-review of the structural design of steel-timber hybrid buildings, comprising 10 years of research on the performance-based design of steel-timber structures, including a steel moment-resisting frame plus CLT infill panel, CLT core with steel column-supported outrigger, and CLT core plus steel diagrid skeleton.
---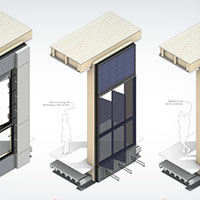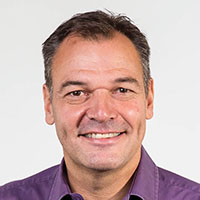 Lars Anders, CEO, Priedemann Façade Experts, Berlin, Germany
"Hyper-Hybrid Skin: Multifunctional Hybrid Steel-Timber Unitized Façade System"
A new steel-timber hybrid unitized façade system has load-bearing capacity that corrects for slab deflection after construction is completed and live loads are applied. It also allows greater flexibility in the layout of interior columns, and can provide a defined level of fire resistance.
---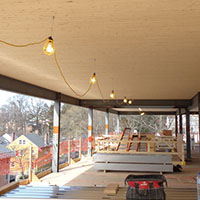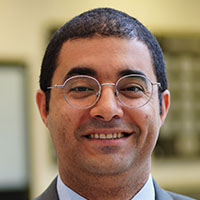 Kadir Sener, Assistant Professor, Auburn University, Auburn, USA
"Establishing Composite Steel-Frame Performance Standards Using CLT Floor Panels"
Current practice is to use concrete decks as floor systems when designing steel-frame buildings. This presentation proposes an alternative system, supported by a USDA Wood Innovations Grant, which seeks to demonstrate the performance and establish standards for steel frames working compositely with CLT floor panels.
---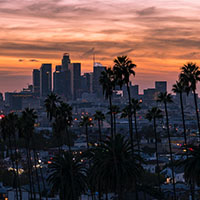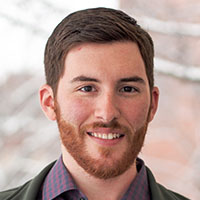 Adam Phillips, Assistant Professor, Washington State University, Pullman, WA, USA
"Using Multiple Criteria Decision Analysis to Determine Best Approaches for High Seismic Regions"
In an experiment to determine the best design option for a high-rise in a high seismic region, the hybrid steel-timber option was preferred for the majority of cases in which the decision-maker valued both lower embodied carbon and low construction costs.
---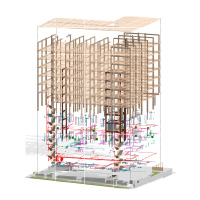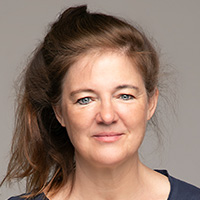 Susan Jones, Principal Architect, Founder, atelierjones, Seattle, United States
"Heartwood Workforce Housing – Glulam / CLT and Steel BRB Frames"
Heartwood is a 126-unit workforce housing project, one of the first Type IV-C 8-story mass timber/steel hybrid and is currently under construction in Seattle, WA. Heartwood uses a straightforward steel BRB diagonal lateral system within the glulam post/beam and 5-ply CLT panel superstructure. The steel BRB's reconcile schedule and delivery issues to ensure construction efficiency, and a streamlined schedule in a cost-effective manner.
<!––---------–------------–------------------RECEPTION----------–------------–-------------------->
Enjoy refreshments and explore the Drake Family Skyscraper Gallery, featuring scale models of iconic skyscrapers from Chicago and around the globe.
Kindly sponsored by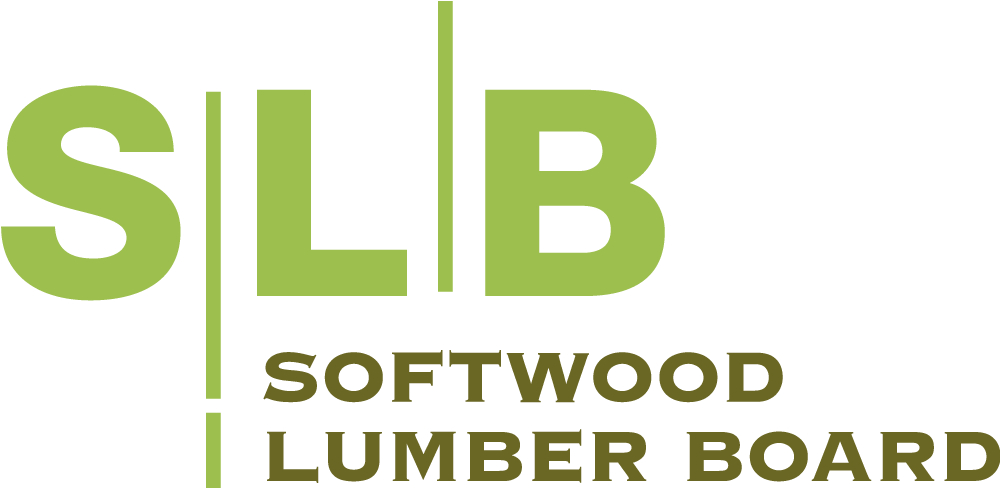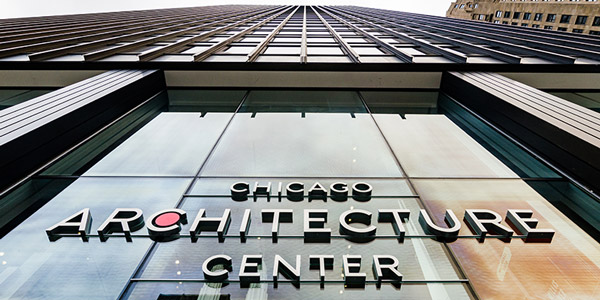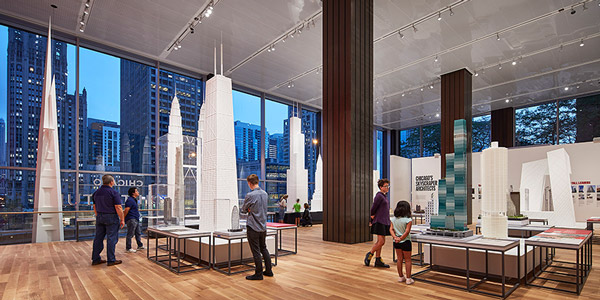 Tuesday, 24 May
<!––---------–------------–------------------SESSION 5----------–------------–-------------------->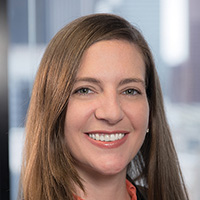 Session Chair
Shelley Finnigan, Global Technical Sales Engineer, Head of Presales for Construction Products, ArcelorMittal, Chicago, USA
---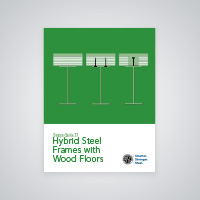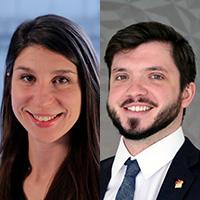 Michelle Roelofs, Associate Principal, Arup, Washington DC, USA
Jordan Woodson, Associate, Arup, New York City, USA
"The AISC Design Guide to Hybrid Steel Frames with Wood Floors"
Arup has collaborated with the American Institute of Steel Construction (AISC) to develop an upcoming Design Guide to support the use of hybrid steel frames with mass timber floors. The Design Guide summarizes multi-disciplinary considerations of fire engineering, acoustics, sustainability, and structural engineering for the steel-timber hybrid building typology.
---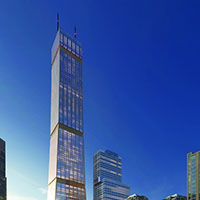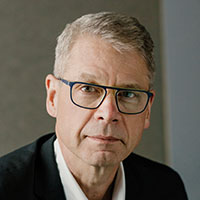 Craig Applegath, Founding Partner, DIALOG, Toronto, Canada
"Hybrid Timber Tower, Toronto: Achieving 105 Stories and Long Spans via Steel Cables and Cages"
The Hybrid Timber Floor System (HTFS) designed for this project uses post-tensioning cables and steel cages encased in a concrete band and recessed into a mass timber panel, allowing for greater column-free spans of up to 12 meters, reducing embodied carbon by 46 percent against comparable conventional buildings.
---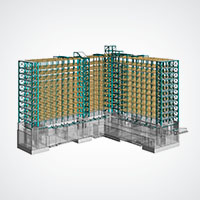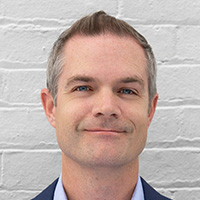 Ian Boyle, Principal, Fast + Epp, Vancouver, Canada
"BCIT Student Residence, Burnaby, Canada: Large-Format Point-Supported CLT Optimization"
This 12-story building (74.7 meters) uses 3.5-by-14-meter-long five-ply large-format CLT panels and point-supported (PS) CLT on slender steel columns embedded within partition walls. Four lateral steel cores utilize special concentrically braced frames (SCBF), which are self-stabilized and fully erected prior to timber arrival on-site.
---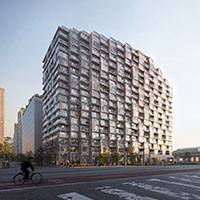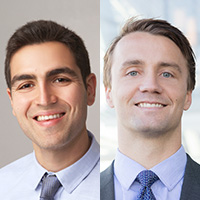 Harrison Glotman, Project Engineer, Glotman Simpson Consulting Engineers, Vancouver, Canada
Chris Smith, Director, California Office, Glotman Simpson Consulting Engineers, Los Angeles, USA
"M5, Vancouver and Terraine, San Jose: Lessons Learned from Conception to Construction"
Two residential structures, 18 and 20 stories respectively, in the seismically-active North American West Coast use steel columns in partitions for the gravity system and steel beams carrying CLT panels. The presentation highlights the factors driving the decision to use a hybrid structure, and the implications.
---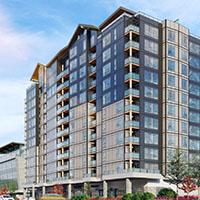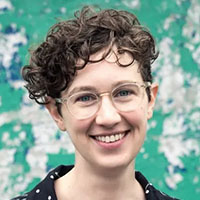 Ilana Danzig, Associate Principal, Aspect Structural Engineers, Vancouver, Canada
"Tallwood 1, Langford, BC, Canada: Eccentrically Braced Steel Frame Provides Lateral Support"
At a 12-story residential building, an eccentrically braced steel frame provides lateral support to the "flat-plate" CLT floorplates. The resilient lateral force-resisting system includes replaceable seismic links, and was prefabricated in three-story segments to align with the timber structure sequencing.
---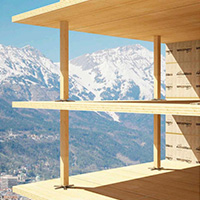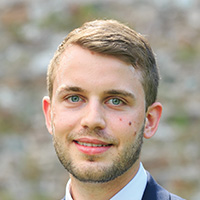 Hannes Blaas, CEO Rotho Blaas USA Inc, Rothoblaas s.r.l., New York City, United States
"Increasing Urban Density with Steel and Timber: XRAD and SPIDER Systems"
Two pioneering new concepts for the future of tall buildings and vertical extensions: The SPIDER connector allows a Texas project to remove supporting beams on a large column grid; and the XRAD creates a large span shear wall between bearing walls.
<!––---------–------------–------------------SESSION 6----------–------------–-------------------->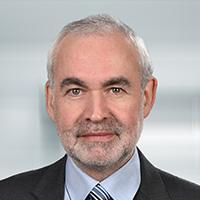 Session Chair
Christoph Odenbreit, Professor, ArcelorMittal Chair of Steel Construction, University of Luxembourg, Luxembourg
---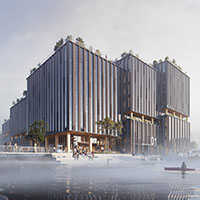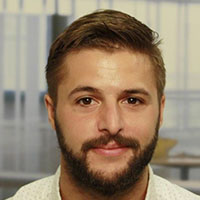 Riccardo Pedroni, Associate Engineer, Ramboll, Copenhagen, Denmark
"Marmormolen, Copenhagen: 'Paving' a 'Services Highway' Using Steel Beams"
An eight-story multi-tenant office development consolidates its electrical and mechanical distribution systems in a "services highway," a centralized 6-meter-wide bay. Steel beams, with the same depth as the CLT planks, are installed along the services highway, carrying timber floor plates and offering a perforation-free service zone, without requirement for wet works.
---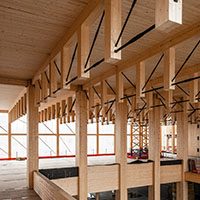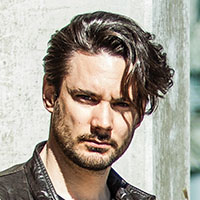 Robert Schmitz, Architect, Partner, White Arkitekter, Stockholm, Sweden
"Sara Cultural Center, Skellefteå, Sweden – Steel Box Trusses and Tension Rods Allow Long Spans and a Timber Core"
This 73-meter mixed-use building uses no concrete in its load-bearing structure. Instead, lateral loads and long spans are taken up by a large steel box truss and tension rods embedded in GLT columns and beams, allowing the building to use a timber core and gravity system.
---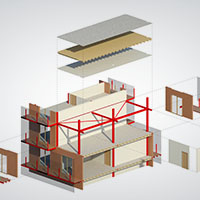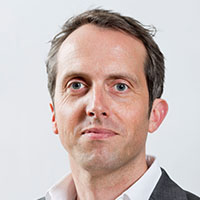 Maurice Hermens, Leading Professional, Royal HaskoningDHV, Rotterdam, Netherlands
"De Karel Doorman, Rotterdam: An Ultra-Lightweight Vertical Extension Using Steel Beams and Stud Walls"
This project adds 16 residential floors on top of an existing 1951 department store. The system is a combination of steel columns and beams, metal stud walls, and timber floors and façades. The resulting total mass of the apartments, including all finishings, is less than 250 kg/m2.
---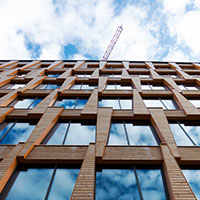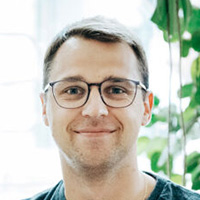 Aivars Vilguts, Structural Engineer, Oslotre, Oslo, Norway
"Lumber Tower, Kristiansand and Valle Wood Office Towers, Oslo: Using Steel Connections to Enable Complex Geometries"
Two key projects are presented, in which steel-timber hybrid solutions allow for optimization of structural performance and material efficiency. Using hybrid joints can deal efficiently with complex structural geometries and transfer loads between up to eight timber elements, enabling increased spans and freeing the architectural plan from structural restrictions.
---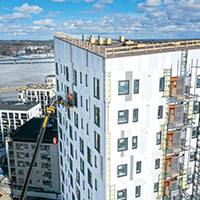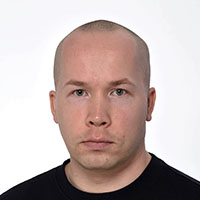 Riku Hirvonen, Project Coordinator, Karelia University of Applied Sciences, Joensuu, Finland
"Lighthouse, Joensuu, Finland: Thread Bars in a Discontinuous Post-Tension System"
Current practice is to use concrete decks as floor systems when evaluating the performance of steel frames. This presentation proposes an alternative system, supported by a USDA Wood Innovations Grant, which seeks to establish standards for evaluating steel frame performance with CLT floor panels.
---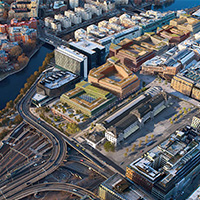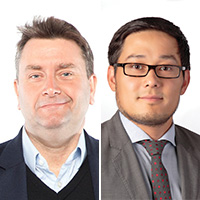 Mark Atkinson, Partner, Foster + Partners, London, UK
John Peronto, Senior Principal, Thornton Tomasetti, Chicago, USA
"Stockholm Central Station: A Steel-Timber Transit-Oriented Development"
A unique response to solving a complex master planning and over decking project, steel and timber are used in a hybrid fashion to provide ultimate flexibility of different building functions into the future, whilst maximizing floor-to-floor heights, and light-weight construction built over active rail tracks and existing historic station.
<!––---------–------------–------------------RESEARCH PROJECT MEETING 1----------–------------–-------------------->
<!––---------–------------–------------------RESEARCH PROJECT MEETING 2----------–------------–-------------------->
Break-out meetings A–D:
A: Architecture/Design
B: Structural Engineering/LCCA
C: Construction Logistics
D: MEP Systems & Envelope/Façades
<!––---------–------------–------------------RESEARCH PROJECT MEETING 3----------–------------–-------------------->
3:45 pm | Research Project Steering Committee Summary Meeting