Delegates kick off the day with lively conversation over coffee and breakfast, kindly sponsored by DIALOG.

Attendees made use of lunch and coffee breaks to explore the wide array of exhibitors in Crown Hall.

Conference Chair Antony Wood, President, CTBUH, welcomes delegates to the 2022 Steel-Timber Hybrid Buildings Conference.

Reed Kroloff, Dean of Architecture, Illinois Institute of Technology, delivers opening welcome remarks.

Javier Quintana de Uña, CEO, CTBUH, addresses delegates on the morning of Day 1.

Ricky McLain, Senior Technical Director, WoodWorks, presents an overview of a dozen steel-timber hybrid projects completed in the USA, and lessons learned from them.

Tabitha Stine, General Manager of Construction Solutions, Nucor Corp., provides guidance on the sustainable use of steel in hybrid construction projects.

Dan Hagan, Director, WSP, discusses how three steel-timber hybrid projects in London are reducing their carbon footprint via smaller, lighter structural grids.

Conference attendees asked thoughtful questions at the end of each session.

Hans-Erik Blomgren, Senior Engineering Manager, Timberlab, speaks on a mass timber-hybrid seismic braced frame system being developed.

Solomon Tesfamariam, Professor, University of British Columbia, discusses the best practices for optimizing steel and CLT for seismic performance.

Kadir Sener, Assistant Professor, Auburn University, proposes an alternative system for developing floor systems in steel-frame buildings, employing CLT floor panels in place of concrete decks.

Adam Phillips, Assistant Professor, Washington State University, describes the benefits of steel-timber hybrid design for high-rises in high seismic regions.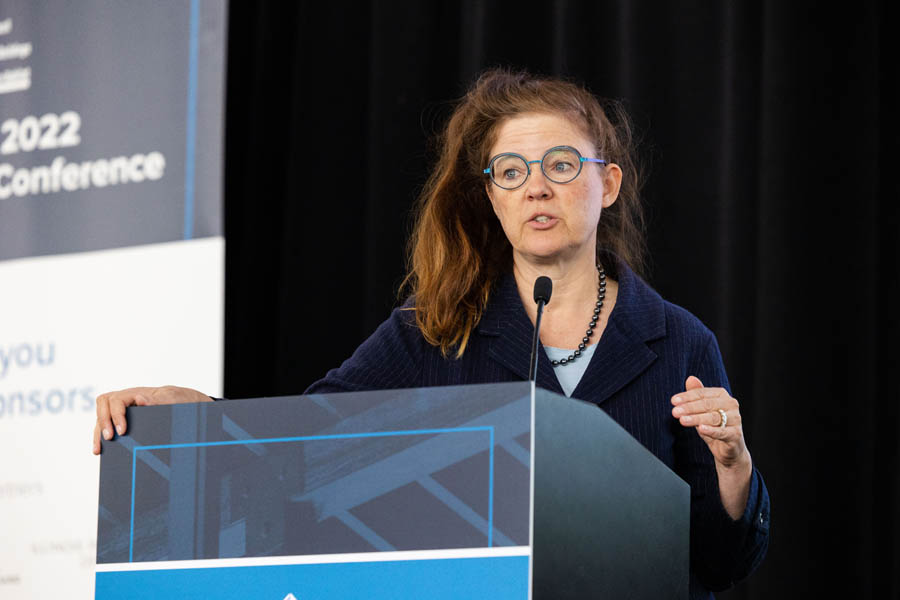 Susan Jones, Principal Architect and Founder, atelierjones, delivers a presentation on Heartwood, one of the first Type IV-C 8-story mass timber/steel hybrid structures.

Lars Anders, CEO, Priedemann Façade Experts, answers an audience question during the Q&A portion of the "Academic-Research Advances" session.

Representatives from Rothoblaas engage in conversation with conference attendees during a coffee break.

Matt Streid, Principal, Magnusson Klemencic Associates, shares the findings of a study conducted to equitably compare the carbon footprints of steel and timber systems.

Dominic Lemieux, Vice President, Peikko North America, discusses an optimized fire-rated hybrid steel-timber slim floor that saves space and has a lower carbon footprint.

Nick Milestone, Steel / Mass Timber Expert, delivers a presentation on the boundaries and opportunities in using mass engineered timber and structural steel hybrid solutions in tall buildings.

Tabitha Stine, General Manager of Construction Solutions, Nucor Corp., answers an audience question during the Q&A portion of the "Steel-Timber Hybrids: Setting the Scene" session.

Thomas Robinson, Founding Principal, LEVER Architecture, presents a case study on 843 North Spring Street, Los Angeles.

Lisa Podesto, Senior Business Development Manager, Design-Build Americas, Lendlease introduces the constructability benefits and challenges of steel BRB lateral systems.

Benton Johnson, Principal, Skidmore, Owings & Merrill, presents on the lightweight benefits of steel timber-hybrids through two projects in California.

Ilana Danzig, Associate Principal, Aspect Structural Engineers, presents on a 12-story residential building, where an eccentrically braced steel frame provides lateral support to the "flat-plate" CLT floorplates.

Ethan Martin, Director of Sustainability and Mass Timber, DCI Engineers, discusses three west coast projects and their differing levels of steel-timber hybrid complexity.

Ian Neill, Associate, LeMessurier, examines floor vibration performance of steel-timber hybrid floors, with a particular focus on the requirements for laboratory equipment and other sensitive lab/office environments.

Lisa Podesto, Senior Business Development Manager, Design-Build Americas, Lendlease, answers an audience question during the Q&A portion of the "Case Studies: Americas I" session.

Attendees enjoy lunch, kindly sponsored by DCI Engineers.

Delegates enjoy lunch on the steps of Crown Hall, soaking up the sun and catching up with colleagues.

The final coffee break of Day 1, kindly sponsored by Timberlab, provided a time for engaging discussion among colleagues.

Andrew Waugh, Director, Waugh Thistleton Architects, discusses how 6 Orsman Road, London, achieved zero-waste construction.

Julia Koehler, Senior Structural Consultant, CREE GmbH, presents on EDGE Suedkruez, Berlin, where a steel Vierendeel truss was incorporated alongside other steel-timber elements.

Eddie Jump, Director, Thornton Tomasetti, discusses how Santander Bank, London, lowered embodied carbon.

Diederik Dam, Principal Architect, Dam & Partners Architecten, discusses how Well House, Amsterdam, achieved slim structural dimensions while keeping the load-bearing and acoustic requirements.

Steven Ware, Partner, Architect, ArtBuild, answers an audience question during the Q&A portion of the "Case Studies: Europe I" session.

After the conclusion of the Day 1 sessions, delegates traveled downtown to attend the networking reception at the Chicago Architecture Center.

Emily Dreke, Vice President of Development, Chicago Architecture Center, welcomes attendees to CAC.

Juanna Blackwell, Chief Operating Officer, Chicago Architecture Center, speaks to delegates to kick off the evening festivities.

Antony Wood, President, CTBUH, speaks to reception guests as the evening begins.

Delegates mingle and enjoy refreshments among the immersive exhibits at the Chicago Architecture Center.

Delegates had the opportunity to explore pieces from the Drake Family Skyscraper Gallery, featuring scale models of iconic skyscrapers from Chicago and around the globe.

Reception attendees enjoy The Chicago City Model Experience, featuring a scale model of the city with more than 4,000 buildings and interactive elements that tell amazing stories of Chicago.