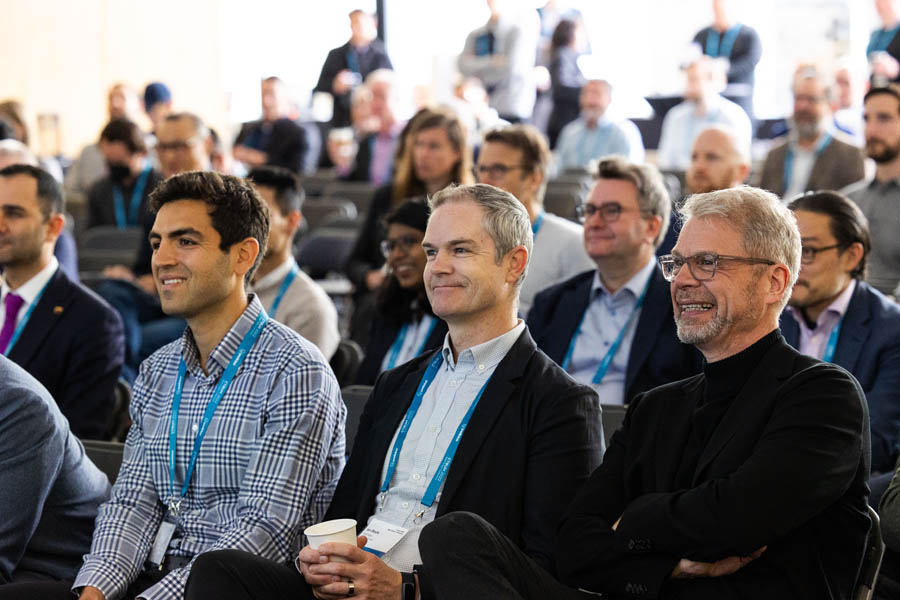 Delegates and presenters alike arrived on Day 2 ready for another full day of engaging presentations and lively conversation.

Session Chair Shelley Finnigan, Global Technical Sales Engineer, Head of Presales for Construction Products, ArcelorMittal, introduces the first session of the day, Case Studies: Americas II.

Michelle Roelofs, Associate Principal, Arup, presents the AISC Design Guide to Hybrid Steel Frames with Wood Floors, a collaboration between Arup and the American Institute of Steel Construction (AISC).

Jordan Woodson, Associate, Arup, elaborates on The AISC Design Guide, which summarizes multi-disciplinary considerations for the steel-timber hybrid building typology.

Craig Applegath, Founding Partner, DIALOG, joined by Thomas Wu, Partner and Structural Engineer, DIALOG, and Daria Khachi, Partner and Structural Engineer, DIALOG, delivers a presentation on Hybrid Timber Tower, Toronto, which employs a Hybrid Timber Floor System (HTFS) designed for the project.

Ian Boyle, Principal, Fast + Epp, explains how BCIT Student Residence, Burnaby, Canada, uses large-format point-supported CLT optimization.

The conference venue, S.R. Crown Hall, is located on the campus of the Illinois Institute of Technology College of Architecture. Student projects were on display for delegates to explore.

Harrison Glotman, Project Engineer, Glotman Simpson Consulting Engineers, elaborates on the lessons learned from the construction of two residential structures in the seismically-active North American West Coast.

Jennifer Pazdon, Vice President, Cast Connex, presents four case studies and the implementation of cast steel connections within them.

Hannes Blaas, CEO Rotho Blaas USA Inc, Rothoblaas s.r.l., presents on two pioneering new concepts for the future of tall buildings and vertical extensions: The SPIDER connector and the XRAD.

Michelle Roelofs, Associate Principal, Arup, answers an audience question during the Q&A portion of the "Case Studies: Americas II" session.

Delegates enjoyed refreshments and conversation during the morning coffee break, kindly sponsored by Rothoblaas.

Riccardo Pedroni, Associate Engineer, Ramboll, discusses how Marmormolen, Copenhagen, consolidates its electrical and mechanical distribution systems in a "services highway," a centralized 6-meter-wide bay.

Robert Schmitz, Architect and Partner, White Arkitekter, explains how steel box trusses and tension rods allow long spans and a timber core at Sara Cultural Center, Skellefteå, Sweden.

Maurice Hermens, Leading Professional, Royal HaskoningDHV, describes how De Karel Doorman, Rotterdam, adds 16 residential floors on top of an existing 1951 department store.

Aivars Vilguts, Structural Engineer, Oslotre, explains how steel-timber hybrid solutions allow for optimization of structural performance and material efficiency.

Riku Hirvonen, Project Coordinator, Karelia University of Applied Sciences, presents on Lighthouse, Joensuu, Finland, where a timber load-bearing structure is anchored to a concrete first floor by way of a threaded steel rod running the length of the tower.

John Peronto, Senior Principal, Thornton Tomasetti, and Mark Atkinson, Partner, Foster + Partners, present a unique response to solving a complex master planning and over decking project at Stockholm Central Station.

Delegates network over the afternoon lunch break, kindly sponsored by Foster + Partners and Thornton Tomasetti.

The second half of Day 2 consisted of targeted breakout meetings covering key disciplinary topics in relation to the two-year CTBUH research project, "The Future Potential of Steel-Timber Hybrid Buildings," sponsored by constructsteel and SLB.

Lisa Podesto, Senior Business Development Manager, Design-Build Americas, Lendlease, chairs the Construction Logistics breakout meeting.

The break-out meetings represented an expansion of the research project steering committee to include new practitioners and an advancement of the research project to the next stage: the focused development of case studies and modeling scenarios.

Susan Jones, Principal Architect, Founder, atelierjones, chairs the MEP Systems & Envelope/Façades breakout meeting.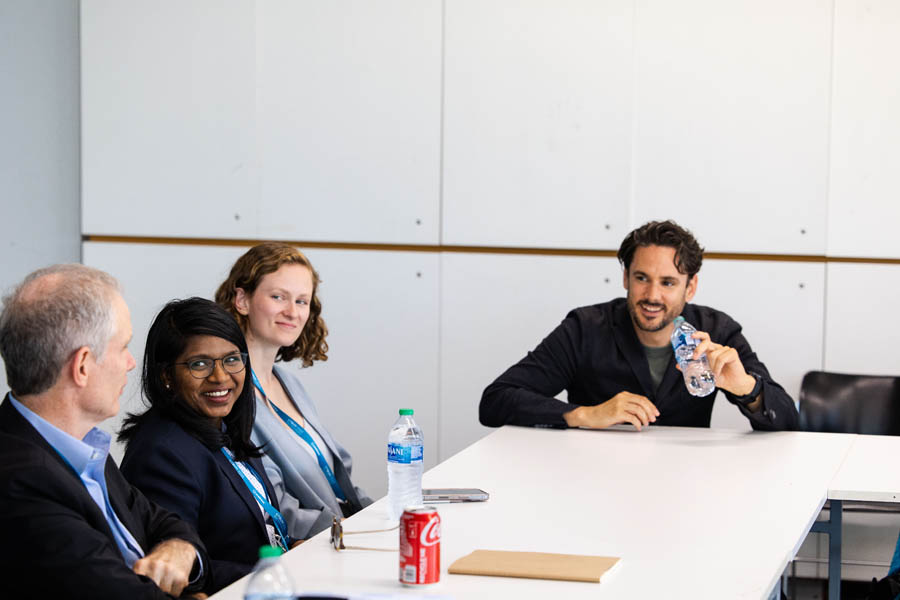 The breakout sessions provided a space for engaging conversation and productive discussions.

Delegates worked together during the breakout sessions to explore key disciplinary topics in relation to steel-timber hybrid structures.

Attendees share ideas with one another in the MEP Systems & Envelope/Façades breakout meeting.

Architecture/Design breakout meeting chair Andrew Waugh, Founding Director, Waugh Thistleton Architects, speaks to attendees during the research project steering committee summary meeting.

The 2022 Steel-Timber Hybrid Buildings conference provided an opportunity for industry professionals to network and share ideas and laughs alike.

At the close of the conference, attendees gathered on the steps in front of S.R. Crown Hall to pose for a group photo.